Canad Inns Destination Centre Windsor Park
Tel: (204) 253-2641
Fax: (204) 254-0689
Hotel Packages and Promotions
54 deluxe guest rooms with King Leisure Suites, Deluxe Queen double and King rooms. All of which have BRAND NEW LCD Televisions and microwaves.  Located on the east side of the City of Winnipeg our hotel is a convenient and fun place to stay. We are within minutes of two major shopping centres including the province's largest St. Vital Shopping Centre as well as Kildonan Place Shopping Centre. We are close to attractions including the Royal Canadian Mint and Western Canada's largest Francophone community – St. Boniface.
CAA/AAA members are more than welcome at all Canad Inns Destination Centres! Stay with us and receive a special discounted rate just for you!*
Take advantage of all the amenities we offer with the comfort of knowing that we are CAA/AAA approved.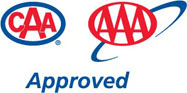 * Some restrictions apply. CAA discounts applicable on Standard Rooms only unless otherwise indicated.
Smoke Free Facility
All indoor areas in our facilities are designated as Smoke Free environments including all hotel guest rooms.