Tel: (204) 956-0410
Fax: (204) 947-1129
Toll Free: 1-800-333-3333
Please review the following information as it pertains to Face Coverings and Destination Centre access at this time.

Face Coverings:

Destination Centre access: 
Searching for a Winnipeg venue with exceptional banquet and meeting space?
The ideal location for a variety of meetings and social events, the Radisson Winnipeg, by Canad Inns, provides flexible, well-appointed meeting and banquet space that is perfect for hosting your corporate event, party, or wedding.
For more information, click here
Centrally Located Downtown Winnipeg Hotel
Located in the heart of beautiful downtown Winnipeg, the Radisson Winnipeg, by Canad Inns, offers convenient services and the kind of warm hospitality sure to please both business and leisure travelers. Our downtown Winnipeg hotel offers 263 newly renovated guest rooms. Guests can also enjoy our on-site restaurant, Resto 12 and our fully equipped Fitness Centre. The team of professional associates at our hotel in Winnipeg, Manitoba, Canada, is dedicated to making your stay with us as comfortable as possible.
Our pet-friendly downtown Winnipeg hotel features rooms on the Radisson Club Floors, flat screen TVs, CD clock/radios, cordless phones and a complimentary weekday continental breakfast and evening hors d'oeuvres
The Radisson Winnipeg, by Canad Inns, is pleased to feature fine continental cuisine at our hotel's on-site restaurant, Resto 12. Breakfast, lunch and dinner are all prepared fresh daily, so you can enjoy a delicious meal at any time of the day. Room service is also available.
Hotel Amenities
Baggage storage
Business Centre
Car rental
Children 18 and under stay free in the same room with an adult
Complimentary weekday continental breakfast and evening hors d'oeuvres for Club Level guests
Concierge services
Currency exchange
Dry cleaning and laundry service
Executive/Club Level
Express check-in/check-out service
Fax, copier and computer services
Fitness Centre
Forgotten items service
High-speed, wireless Internet access (complimentary)
Laptop safe
Laundry facilities
Multi-lingual staff
Newspaper (complimentary)
Parking
Pet friendly Winnipeg accommodations
Room service
Safety deposit boxes
Wake-up service
Weekday morning shuttle service (complimentary)
Check-out time: 11 am
Now Open! The Radisson Winnipeg is proud to announce the arrival of Starbucks© Coffee.
Full Service Downtown Winnipeg Accommodations
At the Radisson Winnipeg, by Canad Inns, guest satisfaction is of the utmost importance at and we strive to provide each guest with a pleasant and enjoyable stay.
Guests can take advantage of our complimentary weekday morning shuttle service to and from nearby destinations and attractions, as well as our complimentary wireless Internet access. And when it's time to relax, our hotel also features a Fitness Centre.
And now, we are pleased to announce the opening of a Starbucks® coffee shop in our main floor lobby!
Guest Room Amenities
Coffee maker
Executive/Club Level
Executive desks and ergonomic chairs
Hair dryer
High-speed Internet access (complimentary)
Iron/ironing board
Microwave oven
Newspaper (complimentary)
Pets allowed
Rollaway beds and cribs available
Room service available
Sleep Number® beds
Two telephones with voicemail
TVs, CD clock/radio and cordless phones
CAA/AAA members are more than welcome at all Canad Inns Destination Centres! Stay with us and receive a special discounted rate just for you!*
Take advantage of all the amenities we offer with the comfort of knowing that we are CAA/AAA approved.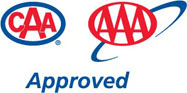 * Some restrictions apply. CAA discounts applicable on Standard Rooms only unless otherwise indicated.
Smoke Free Facility
All indoor areas in our facilities are designated as Smoke Free environments including all hotel guest rooms.