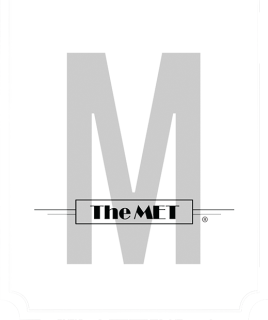 View or download the complete set of available Room Plans from The MET.
Directly across from the Bell MTS Place

The Metropolitan Entertainment Centre is a unique food and beverage emporium and Multi-Purpose Event Centre. The state of the art conference, banquet and meeting facility can accommodate large events while retaining the original look, feel and grandeur of the historic theatre.
The Metropolitan Entertainment Centre features a variety of exquisitely appointed spaces to cater to any need. Enjoy a casual drink or an intimate meal in the lavish Lobby and Promenade Lounges. Enjoy dinner and then settle back to watch a movie in the Grand Hall on the 35 ft.by 26 ft. screen, or reserve one of the balcony level privates boxes for your next special event. Private meetings or pre-event gatherings can be catered in The Parlour, and the Roof-top Patio provides an ideal spot for seasonal dining and private bookings. The MET offers a delectable menu of contemporary casual cuisine prepared in-house by the talented team led by Chef Younes Taouile.
On your own, or with 1000 of your closest friends, we cordially invite you to the MET.
Parks Canada Designates The MET as a National Historical Site
On January 15, 2018, a special ceremony as held to commemorate The Metropolitan Entertainment Centre as a national historic site with the unveiling of a Historic Sites and Monuments Board of Canada plaque.
Following a dormancy of almost 20 years, Canad Inns acquired the building in 2007 and began planning the rejuvenation of this beautiful building.
After several years of planning, a dedicated team of artisans, architects, contractors, and owners (Lea and Lane Ledohowski) worked with the support of politicians, and community leaders to slowly breathe life back into this gem.
The rejuvenation of The MET was the vision of Canad Inns Founder and Chair, Leo Ledohowski. For him, this was a labour of love. He saw the beauty hidden under the dust and neglect, and this piece of history is his gift back to the community that he loves so dearly.
Canad Inns extends sincere thanks to Parks Canada for adding The MET to a long and impressive list of national historic sites.
We look forward to another century of making history at The MET!