Host your FUNdraiser at a Canad Inns Event Centre!
Host a great event and raise money for your Organization, Team or Special Event. Your organization can run silent auctions, sell raffle tickets and hold other fundraising activities at one of our fabulous venues.
How it works
You pick the date & venue; we can accommodate events for 120-500+ people.
You set the ticket price.
You select one of the FUNDraiser Packages from options listed below:
Option # 1– Steak Dinner
6 oz. Canadian Steak, Sautéed Mushrooms, Baked Potato, Caesar Salad, Garlic Breadstick, and one Complimentary Beverage
Option # 2– Chicken Dinner
Charbroiled BBQ Chicken Breast, Baked Potato, Caesar Salad, Garlic Breadstick, and one Complimentary Beverage
Option # 3– Pasta and Pizza Dinner
Pizza Slice, Pasta Napoletana with fresh Parmesan cheese, Caesar Salad, Garlic Breadstick, and one Complimentary Beverage
All options also include:
Complimentary Ticket Printing
A Canad Inns Prize Donation for your Auction!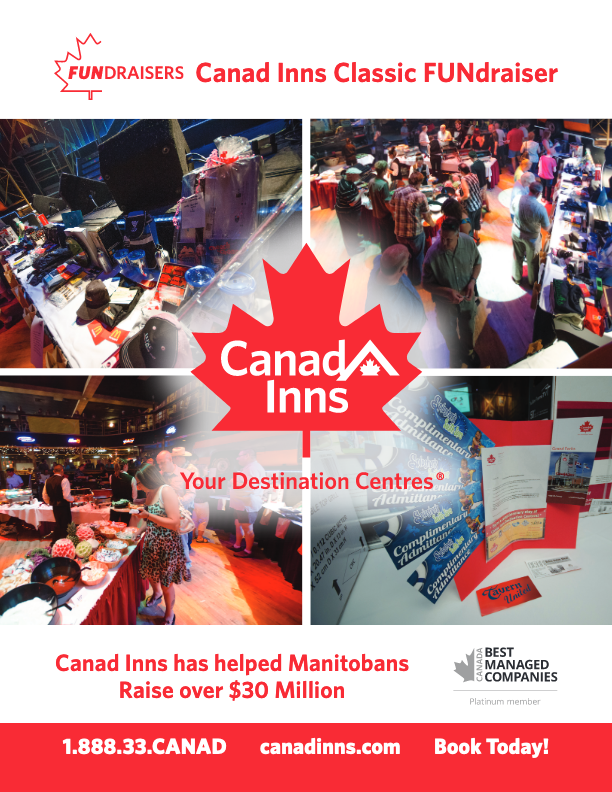 OHEYS – Our Amazing FUNdraisers Experience !!
"What a team!!
Thanks so much for the fantastic experience with our FUNdraisers dinner event at Express by Canad Inns. Dealing with all Canad Inns staff was a great experience. From start to finish we were extremely impressed with the entire organization and the professional hosting support we received — from printing our dinner and supporter tickets, all the way through to the end of a fantastic and successful evening.
Thank you to Donna, Joe, and especially Eric and Andre on the night of the event. The venue was superb — not a big cavernous space, but with pockets of tables and seating levels which made the place feel intimate, in spite of the large attendance (we sold 600 dinner tickets!!).
The table settings and lighting surrounding the dance floor made our silent auction items easily visible and accessible, which resulted in extremely high ticket sales to support the event. The on-site service was outstanding, with enough staff who were very friendly and accommodating with speedy meal and drink service. The meal was great value, and everyone enjoyed the multiscreen display of our photos throughout the night. Comments from those who attended were that it was a first-class event.
We strongly recommend Canad Inns FUNdraisers to organizations looking to run a professional fundraising event. We would not hesitate to use this venue for future events. Everyone who attended thought the evening was superb. Great job Canad Inns!!"
Winnipeg Optimal Health Early Years Sports Club
OHEYS Autism Programs
Registered Charity #86117 9083 RR0001

Terms & Conditions
Room Rental Includes: Guest Seating, Reception Table, Prize Tables, and Serving Staff. Additional services or equipment available for additional fee.
120 Ticket Minimum; Organization will be charged for greater of tickets sold or 120 minimum.
Your organization is responsible for managing the auction and sourcing the prizes.
Non-refundable Room Deposit required to hold date; deposit will be applied to event invoice.
Organizer must confirm Menu Selection at time of booking and Number of Guests 72 hours prior to the event date.
Security Services when required are $50/hour for a 3 hour minimum.
AV Services or DJ Services are available on request for $100/hour for a 3 hour minimum.
Canadvantage Rewards Points cannot be earned or redeemed for Canad Brand Fundraisers.