Please review the following information as it pertains to Face Coverings and Destination Centre access at this time.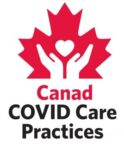 Land Travel from Canada to US and Return
Canadian Citizens Travelling VIA Land from Canada to the US
Starting on Monday, November 8, 2021, Fully vaccinated, non-citizen travelers with appropriate documentation will be permitted to enter the United States for non-essential travel via land POE and ferry terminals.
When arriving at a U.S. land POE or ferry terminal, non-citizen travelers should be prepared to:
present proof of COVID-19 vaccination; and,
verbally attest to their non-essential travel and COVID-19 vaccination status.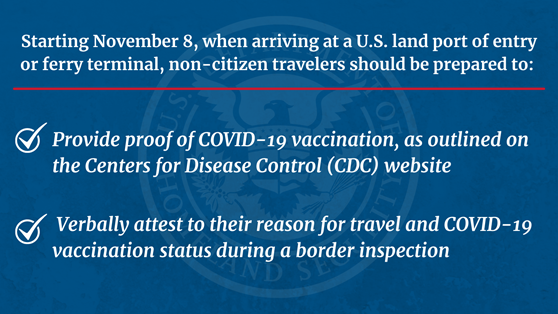 Canadian Citizens Returning VIA Land from US to Canada
Canadians are always eligible to enter Canada but must complete testing requirements and mandatory quarantine if they do not qualify as a fully vaccinated traveller
A pre-entry molecular test is required for all Canadians returning to Canada. A rapid antigen test will not be accepted.
To qualify as a fully vaccinated traveller to Canada, you must:
have received at least 2 doses of a Government of Canada-accepted COVID-19 vaccine or a mix of 2 accepted vaccines

or at least 1 dose of the Janssen/Johnson & Johnson vaccine

have received your second dose at least 14 full days prior to the day you enter Canada
upload your proof of vaccination in ArriveCAN
have no signs or symptoms of COVID-19
meet all other entry requirements (for example, pre-entry test result)
Accepted COVID-19 vaccines in Canada
Pfizer-BioNTech (Comirnaty, tozinameran, BNT162b2)
Moderna (Spikevax, mRNA-1273)
AstraZeneca/COVISHIELD (ChAdOx1-S, Vaxzevria, AZD1222)
Janssen/Johnson & Johnson (Ad26.COV2.S)
Detailed information for Covid 19 vaccinated travellers entering Canada can be found:  https://travel.gc.ca/travel-covid/travel-restrictions/covid-vaccinated-travellers-entering-canada
COVID TESTING INFORMATION
Testing can be done in Manitoba, before heading to the US, and those test results can be used if you return to Canada within 72 hours of taking the test. 
Testing Sites in Grand Forks, ND
Individuals with COVID-19 testing requirement for travel should be tested using the RT PCR (real-time polymerase chain reaction) test.  Below is information on places in Grand Forks that will administer the PCR test.
Grand Forks Public Health – UND Fritz Pollard Jr Athletic Center
2419 2nd Ave N, Grand Forks
Monday-Friday, 7-11 AM
Walk-ins welcome or save and call 701-780-6358
Results back within 48-72 hours
Free of charge
Altru Drive Thru COVID-19 Testing/Grand Forks Public Health
1490 44th Ave S & 4500 S Washington St, Grand Forks
Monday-Friday, 12:30-6 PM and options on weekends
Call for an appointment: 701-780-6358
Results back within 48-72 hours
Health insurance will be billed for testing; however, there is an option to pay on the spot
Cost varies but typically is around $140
Wall's Medicine Center
708 S Washington St, Grand Forks
Monday-Friday, 9 AM-12 PM
Call for an appointment: 701-746-0497
Results back within 1 hour
Cost is $200
CVS Pharmacy
1950 32nd Ave S, Grand Forks
Additional COVID-19 related information may be found at: https://www.grandforksgov.com/government/city-departments/public-health/covid-19/covid-19-mass-testing-events.